Formation
Laying down the cartilage Frame
This is typically laid down in the form of cartilage in the embryo. The gelatinous matrix of this is secreted by chondroblasts which eventually come to lie within cavities in the matrix. From here they continue to divide and secrete more cartilage bringing about growth in the tissue. Cartilage consists mainly of large amounts of collagen and elastic fibres. (These cells gain their food and oxygen by diffusion through the matrix as blood capillaries do not penetrate this tissue)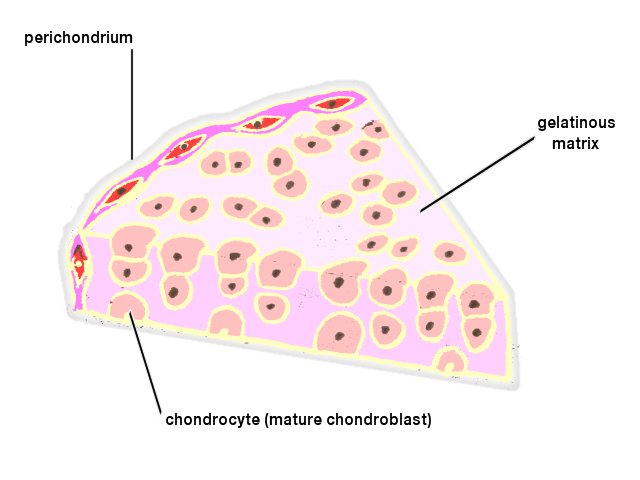 Fig.1 Cartilage formation.
Calcification
The cartilage now undergoes calcification as a result of precipitation of calcium phosphate in the matrix. This makes the tissue impermeable so the chondroblasts die and the calcified cartilage begins to disintegrate leaving spaces for the invasion of osteoblasts. These start to lay down fresh calcium phosphate,ossification, using ions supplied by the blood capillaries which begin to penetrate the cavities of the ossifying cartilage. The osteoblasts eventually surround themselves with this deposited mineral material and are now called osteocytes.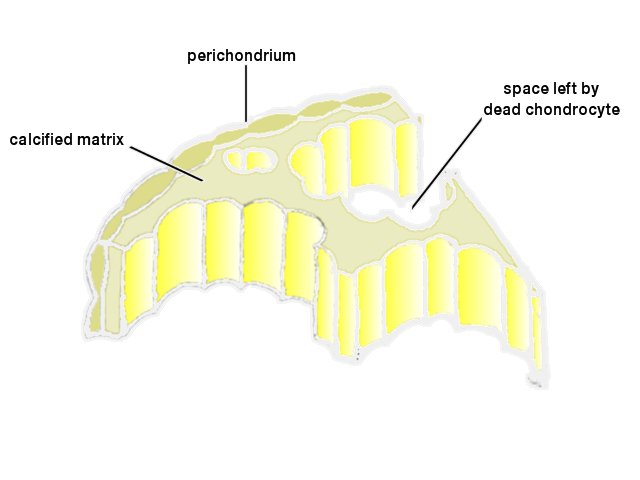 Fig.2 Calcification.
Final Gross Structure
Each bone is surrounded by a tough fibrous sheath of connective tissue called the periosteum.It consists of:
outside - principally collagen fibres
inside - osteobalsts which produce an increase in the thickness of bone
The periosteum is continuous across joints where it forms a capsule whose inner surface secretes a synovial membrane in the case of diarthroidal joints.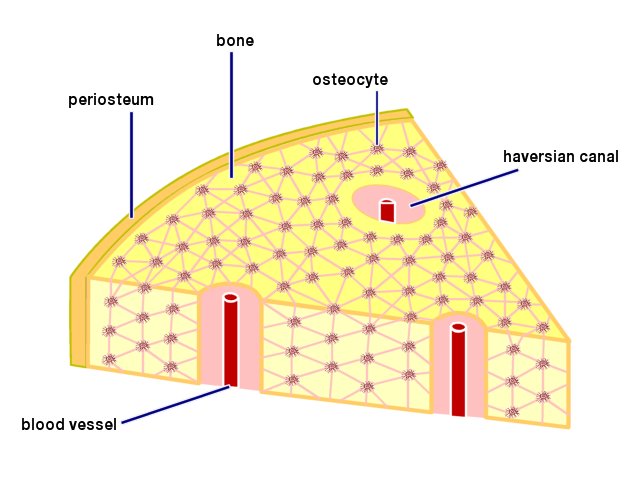 Fig.3 Formed bone.